The fiskaly Dashboard gives you full insight into your fiskaly products. From here you can manage organizations and their users.
Your user account
​
To use the fiskaly Dashboard you need a separate account. You can create this account free of charge at the address above.
Registration and first login
​
You have the possibility to create a fiskaly account with your existing Google, LinkedIn or Microsoft account. Alternatively you can also create a regular account with your email address by clicking on "Register".
After completing the registration you will receive an e-mail to activate it. The activation link is only valid for 5 minutes!
If you have not already been invited to an organization, you will be prompted to create one. Creating an organization is free of charge. If you only want to test our system, you can simply create a test organization here at no additional cost. To do this, fill in the name of the organization and the fields for your address in step 2.
(Optional) In the last step you can define a billing address. By default, the address of the organization is stored for this purpose. If you do not want this, you can click on "Leave billing address blank". In any case, your user account remains free of charge. We only charge LIVE instances, which you can create in a later step.
Click on "Create" to finish.
Congratulations! You have successfully created your first organization.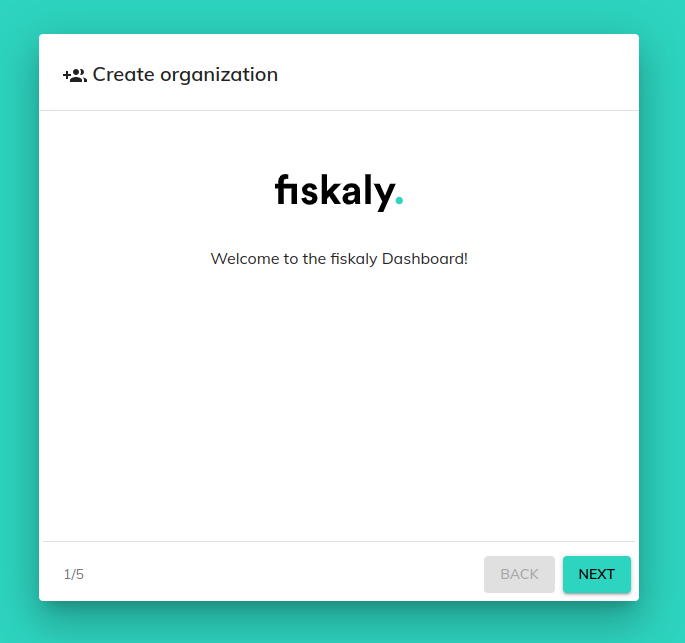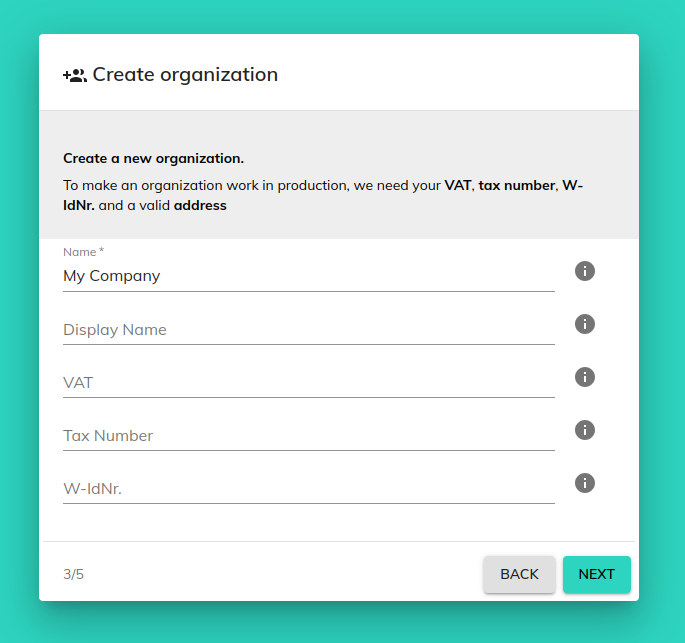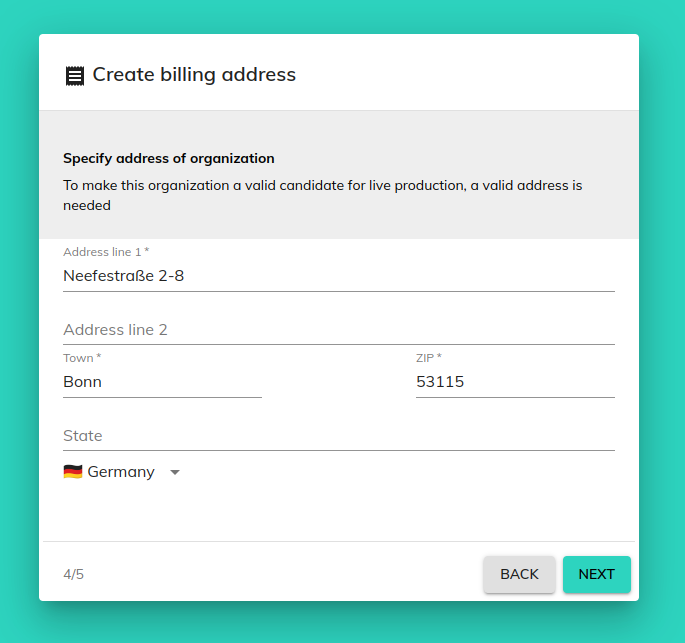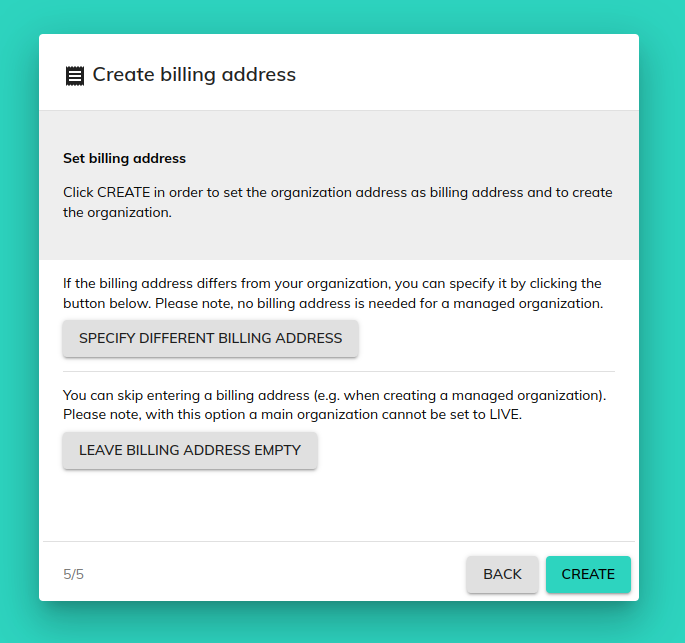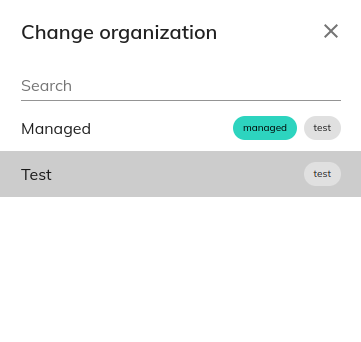 Regular Login
​
If you have already created several organizations or been invited to existing ones, a selection list of all your organizations in which you are authorized will appear after login. Otherwise your organization will be selected automatically.
Navigating the Dashboard
​

The dashboard is divided into several categories: all important menu items for the SIGN DE API(KassenSichV), areas for user and organization administration, and reference books and resources for developers.
The menu options for the SIGN DE API (KassenSichV) are briefly explained here.
Dashboard Overview
​
Overview and insights of the products booked with us as well as statistics on your use.
Technical Security Systems
​
Listing of the TSS posted at fiskaly and their status. Click on the ID of the TSS to obtain further information. You can also trigger an export by clicking on the appropriate button at the end of the table.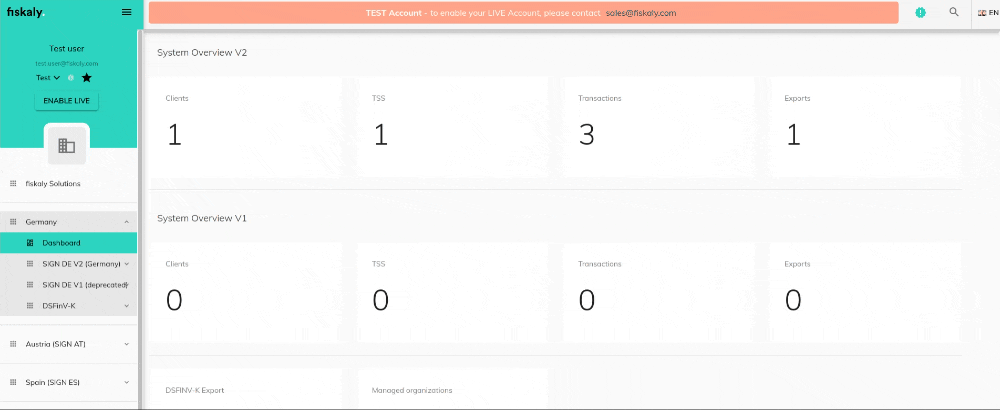 The detail page of the TSS offers further information like:
TSS ID
Description
The description text you have chosen
State
The current status of TSS
Transaction Counter
Signature Counter
Certificate Serial No.
Creation Time
Init Time
Disable Time
List of the clients of this TSS
List of transactions of this TSS
List of exports of this TSS
Clients
​
This menu item provides a list of all clients, regardless of their TSS. By clicking on their ID, further information and a list of transactions is displayed.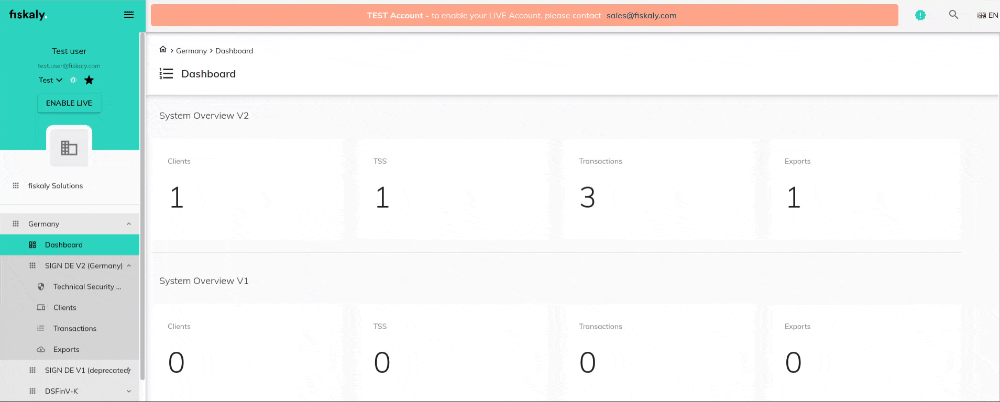 On the detail page of the client you will also get the following information:
Client ID
TSS ID
Serial No.
Creation Time
List of transactions
Transactions
​
Under this menu item you will find a list of all transactions, independent of TSS and clients. By clicking on the transaction ID, you can access a page with the transaction details.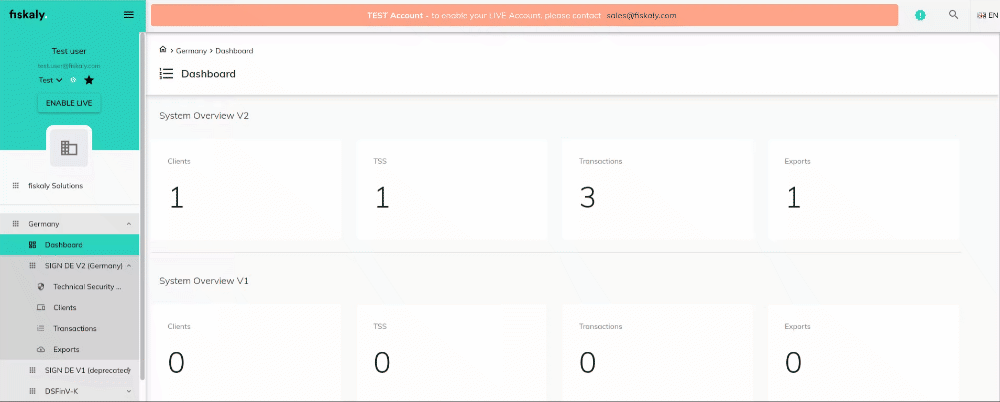 On the detail page you will find further information such as:
Revisions
If there are several revisions, you can switch between them.
Type
Schema
State
Start Time
Transaction Number
Signature Counter
TSS ID
Client ID
Transaction ID
Signature Value
Certificate Serial No.
Signed Data
Payload
Exports
​
Here you will find an overview of the exports that are currently being created or are ready for download. In the download column you can download the exported data.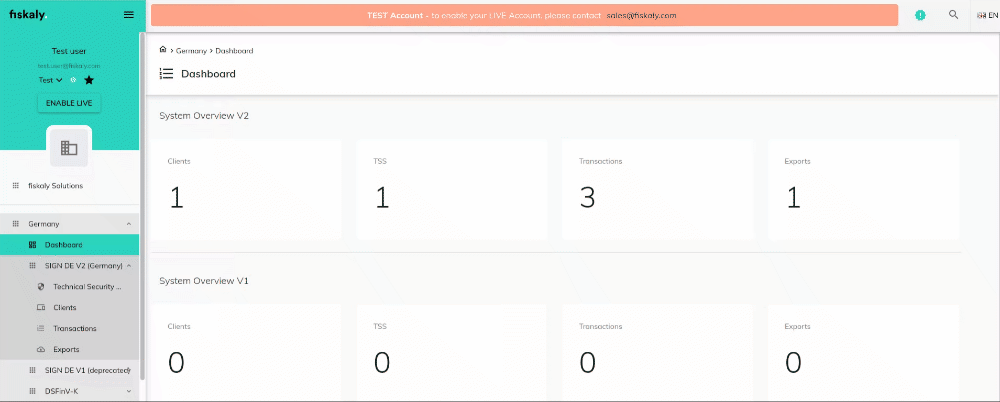 Integration
​
There is the possibility to integrate fiskaly with other third party services. This usually extends the user interface of the dashboard, or starts certain automations in the background.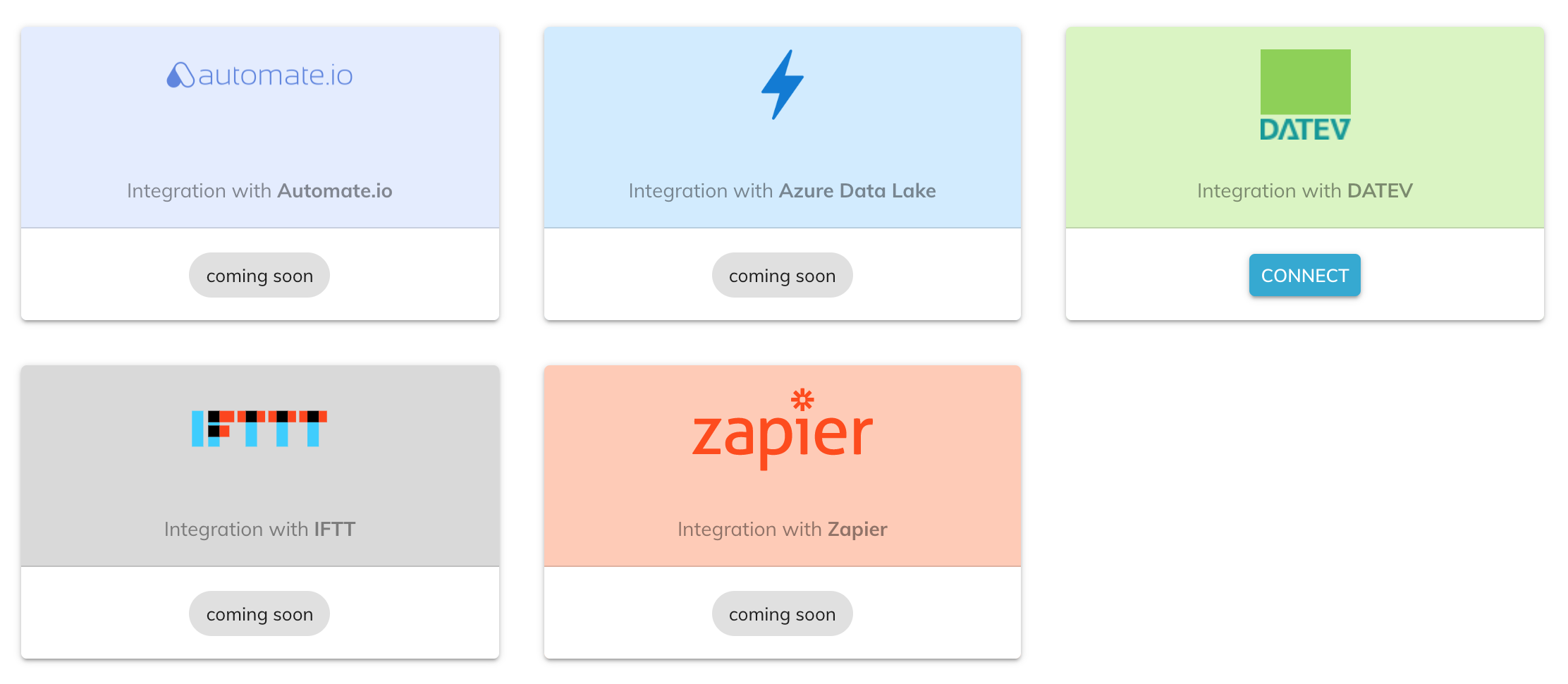 Under this menu item you can see the current status of your integrations with third-party services, and options to either connect or disconnect from a service.
---
Organization Management
​
This menu item is located under "Settings" > "Organization Management".
The organization is a unit which usually represents a business or branch office. Of course, it is up to you how you want to map your business structure.
We distinguish between main organizations and managed organizations. The latter are marked with a managed badge. The latter is dependent on the main organization and cannot contain any other managed organizations. A main organisation cannot be a sub-organisation of another organisation.
Create organization
​
Creating organizations is free. Both main and managed organizations can be created via the dashboard.
info
When creating an organization from the LIVE environment, it will be available in both the LIVE and TEST environments.
However, if you are in the TEST environment, the organization will only be available in TEST.
To create a main organization, please proceed as follows:
Click on your current organization in the upper left area.
A dropdown (or dialog box) appears with a link at the bottom to create another organization ("Create new organization")
Fill in at least the required fields in the 1st and 2nd dialog boxes.
Click on "Create" or on "Leave billing address blank".
The newly created organization is automatically selected for you.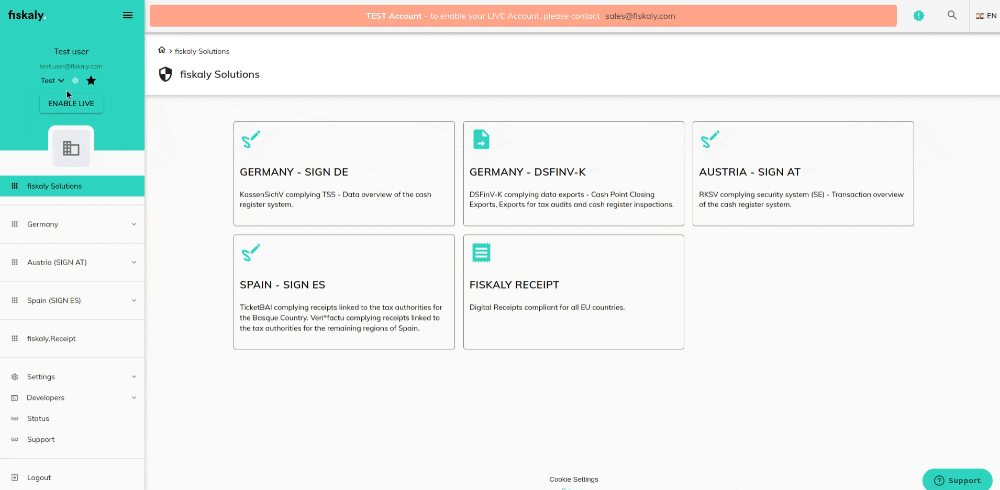 Switch organization
​
Click on your currently selected organization in the upper left area.
A dropdown (or dialog box) appears.
If you are authorized for more than five organizations, a search field appears, which allows you to search for the desired organization.
Click on the organization you want to select.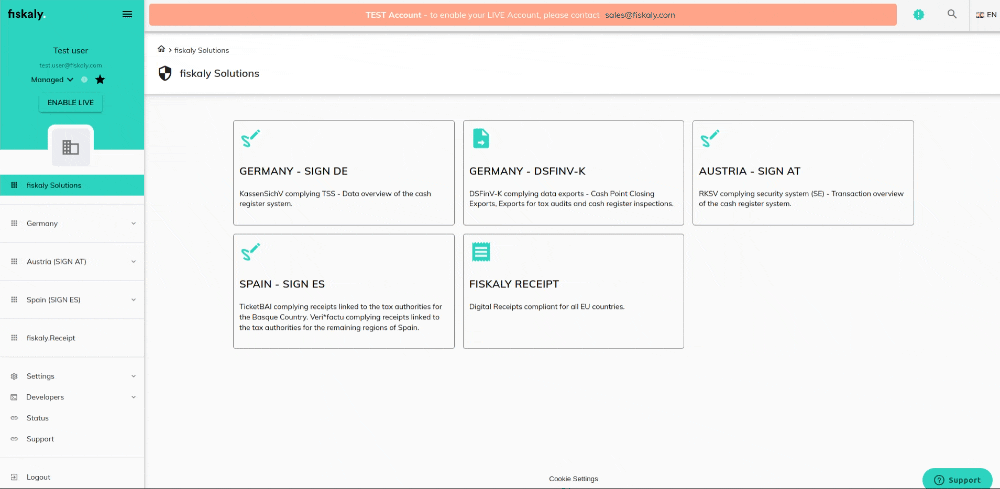 View information
​
In some situations, such as for support purposes, it may be helpful to view more information about your organization by clicking the i icon to the right of the selected organization in the upper left area.
In addition to the organisation ID and name, you will receive the address given.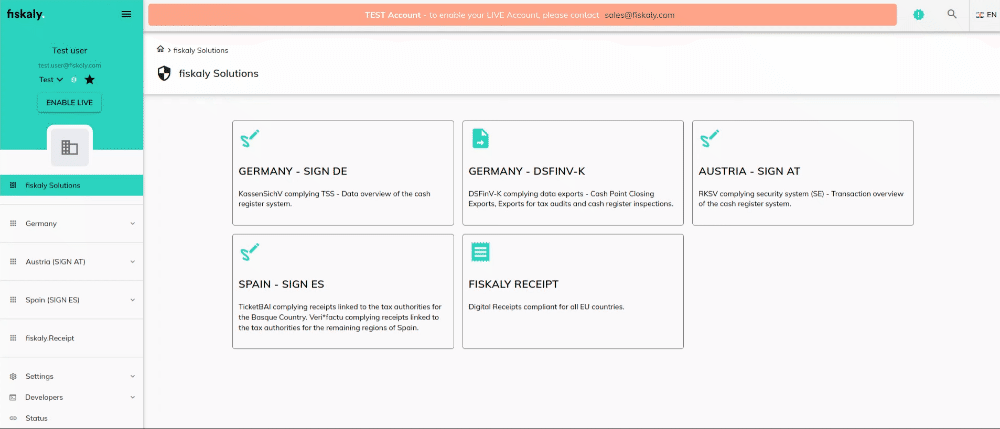 Switch to LIVE mode
​
By default, all units created on fiskaly are in TEST mode, unless LIVE mode has already been activated. Enabling the LIVE environment is done manually via our sales team. Please contact our sales team at sales@fiskaly.com and provide your Organization ID (see View information above).
As soon as the LIVE mode has been activated for your organisation, instead of the "Enable LIVE" button, a toggle button will be displayed with which the mode can be changed. Only units for the respective mode are displayed. To create new units in LIVE mode, a new API key must be created in LIVE mode.
Upload organization logo
​
For a better differentiation of the individual organizations it is possible to upload a company/organization logo. To do so, click on the company placeholder logo on the left and select the logo you want for your organization.
---
User Management
​
Under "Settings" > "User management" you can invite additional users to your organization.
Invite users to the organization
​
Click on the button "Invite to organization" and then enter the e-mail address in the field.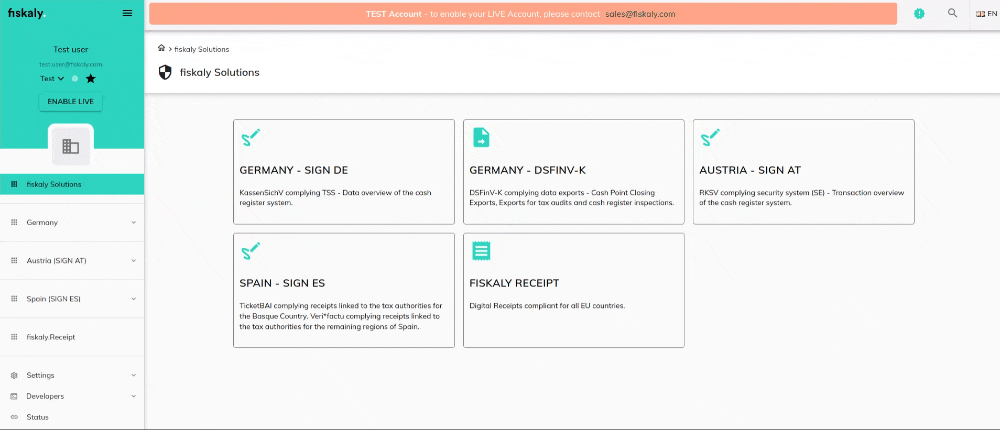 If the email address you enter is already stored in our system, the user will only be informed that it has been added to your organization.
If it is a new user, an account will be created, which must be activated by the owner of the e-mail address within 48 hours.
---
API Keys
​
This menu item is located under "Settings" > "API Keys".
An API key is bound to an organization and the selected mode. This means that it only works for one organization. If the API key has been created in TEST mode, it can only be used to create entities for test purposes. With a key created in LIVE mode, only LIVE entities can be produced.
Here you can manage your API keys, creating and removing them if necessary.
---
Developers
​
API documentation and the changelog can be found here.